Co-Parenting After Separation And Divorce
Parenting with an ex can be tricky business, but it is possible.

Why it can be so hard to co-parent
There can be lots of ups and downs when it comes to juggling responsibilities between ex partners.
Here are a few issues that parents can struggle with:
Dealing with unresolved feelings or issues - and the resulting arguments
Worrying that one parent will get less time with the kids than the other
Clashes in parenting styles or views
Difficulty with decision making – when you just can't seem to agree!
One parent wanting to spend more or less time with the kids
Last minute changes to plans
Kids being emotionally affected by the separation or divorce
Adjusting to step parents being involved
Tips for successful co-parenting
Parenting with an ex tends to work best when the following things are kept in mind:
Working together is important
Be clear in decision making
Be flexible and roll with changes
Avoid discussions when upset or angry
Support the kids to feel connected to each parent
Compromise where you can - meet in the middle
Keep an open mind to different parenting styles
Communicate respectfully and calmly with your ex
Take time to help the kids understand the changes
Remember to keep the kids' best interests a priority
Try to be organised and plan ahead – keep your ex in the loop
Be prepared for different emotions from the kids (sadness, anger...)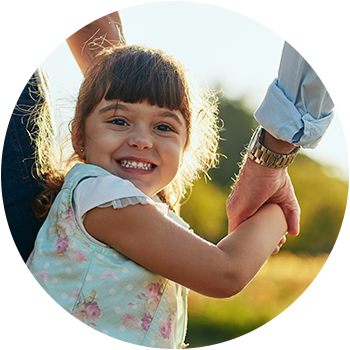 Create a co-parenting plan!
Making a collaborative agreement is key to ensuring everyone is on the same page about their responsibilities and minimises conflict. A co-parenting plan can include:
A schedule - how often the kids will get to see each parent and for how long
Where the kids will stay
Where they will be educated as well as drop offs and pick ups
How holidays and special events will be shared
Medical decisions and how they will be made
Finances - how expenses will be divided
Finding balance between you and your ex-partner can be done!
You're not alone in figuring out what works best for you and your family.
As this process can take time, patience and some trial and error, it's ok to ask for support when you need it.
If co-parenting with your ex-partner has broken down or you want to talk through the impacts it's having on you and your kids, give us call on 1300 30 1300 (QLD & NT) and speak to one of our trained counsellors.
Not living in QLD or NT? Check out this list of Parentline counselling services in each state or territory.
This content was last reviewed

18/05/2018
Parentline is here for you.
Sometimes you just need to talk to someone. Sometimes you need guidance.