Social Media and Safety
Social media is becoming a regular part of life for most kids. Support your child to manage the risks in their online world but still enjoy its benefits.

Kids are spending more time online and connecting with others.
Understanding kids' use of social media:
Kids are becoming more connected, mobile and social
They are being introduced to the online world at younger ages
Kids as young as six are accessing social media sites
78% of eight to nine year olds have used a social network (YouTube being the most popular)
They mostly start using social media to play online games or watch YouTube videos; and then graduate to platforms such as Instagram, Tumblr and Facebook
Most kids have describe being online as 'very important' to them
Social media can be enjoyable and beneficial for kids
Contrary to what you might have heard, risk does not always equal harm on social media. Social media can offer many benefits for your kids:
Connect with family and friends
Develop and express their unique identity
Explore different ideas
Provide opportunities to learn with others
Share their creativity through music and art
Develop digital media literacy
Types of social media and age limits
Your child might ask you to sign them up to a popular game or social media site.
It's important to check the minimum age requirements, be aware of the risks and supervise your child's use.
While there are too many sites and apps to list in just one article, you can learn about them and get up-to-date information on the eSafety website.
The types of online platforms your kids may want to use include:
​​​​​​Multi-player online games - Moshi Monsters, Club Penguin, World of Warcraft, Minecraft (ages ranging from 5-12+)
Media sharing - YouTube, Tik Tok (ages 13+, and/or requiring parent permission)
Social media networks – Facebook, Instagram (ages 13+)
Microblogging - Twitter, Tumblr (ages 13+)
Video conferencing - Skype, FaceTime (18+ or adult permission)
Common risks on social media for kids
Some of the things you may worry your kids are exposed to include:
Sexting and image-based abuse
Having their personal information shared
Accidentally downloading viruses or malware
Access to inappropriate content such as pornography
Being cyberbullied, embarrassed, harassed or attacked online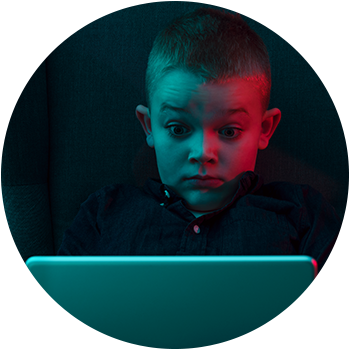 If you see unsafe content or behaviours online, you can make a report to:
Crime Stoppers: Make a report online or call 1800 333 000
Police: Contact your local police station
Empower yourself and your child to take steps to stay safe
Talk to your child about things they can do to stay safe online and educate yourself about the steps you can take if things get unsafe. Here are some tips to help keep their time online safe:
Set rules – what to report to an adult, what websites they can visit, what they post online
Encourage them not to share passwords with friends
Change privacy settings to make sure their information is private and limit who can connect with them
Encourage them to connect only with people they know offline
Set a good example - role model safe, healthy and positive online behaviours
Use strong passwords and update them regularly
Asking a trusted adult before posting any personal information online, including for competition entries
Be involved and stay involved – take an interest in the sites they are visiting and get to know them
Teach them about the consequences of sharing something online
Keep identifying information to a minimum - eg. do not reveal their location
Contact the Police immediately if you become aware of grooming on social media
Be aware of what your child is doing online and who they talk to
Monitor your child's time online - keep computers or devices in a shared areas
Encourage them to talk with a trusted adult about online issues
Use filters or parental controls to manage content your child has access to
Educate and empower – help your child develop strategies to deal with issues (eg. reporting to an adult)
It's important to know that your child is staying safe online
Talking to your child about the risks and benefits of social media can help them navigate these platforms safely.
As a parent, you're not alone in supporting your child through their use of social media.
If you're struggling with this, give us a call on 1300 30 1300 (QLD & NT) and speak to one of our trained counsellors, or if you're not living in QLD or NT, check out this list of Parentline services in each state or territory.
You could also visit the eSafety website to find out more about offensive content and cyberbullying and what you can do or show your child the Kids Helpline site.
This content was last reviewed

17/05/2018
Parentline is here for you.
Sometimes you just need to talk to someone. Sometimes you need guidance.